but really... i've been knitting for probably 3-4 months and i absolutely love it. i can escape and engulf myself in my latest project and feel great. recently, i've knit the following...
ottie, the octopus...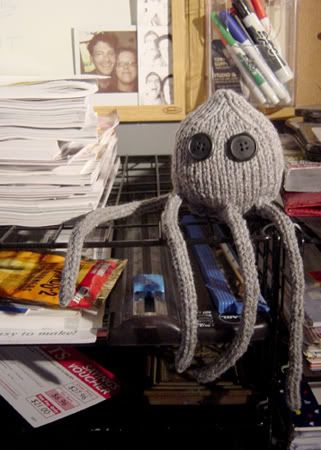 adapted from a crochet pattern:)
a "fashion" scarf for my sister and one similar for my mom...
you can't see it very well in the picture, but the knit is real loose, making it very light and flowy. it is made with
trellis yarn
(it is almost ribbon/lace like). very neat. the one i made for my mom (and two small ones for her dogs;) is in
this color scheme
and looks pretty cool as well.
plus, numerous other scarves for friends and such. currently, after completely ruining my first attempt at a hat, i'm trying again... this time, with more yarn:) i am definitely more comfortable with using double-point needles rather than a circular needle.
p.s. having this community makes me SO happy!
:)
my name is shannon, and i am a knitting addict. hehe.